{"id":4592474882103,"title":"Bicycle Duck Bell","handle":"bicycle-duck-bell","description":"\u003cdiv class=\"product-single__meta\"\u003e\n\u003ch1 class=\"product-single__title\" itemprop=\"name\"\u003e\u003c\/h1\u003e\n\u003cdiv class=\"product-single__description rte\" itemprop=\"description\"\u003e\n\u003ch2 style=\"text-align: center;\"\u003e🐤Bicycle Duck Bell\u003c\/h2\u003e\n\u003cp\u003e✅✅Quack quack! I'm Huey, and I'm here to keep you safe on your bike in style. Whether you commute to school, work, the gym or just like a casual ride - I'm here to be there with you, every pedal of the way.😘\u003c\/p\u003e\n\u003ch3\u003e\n\u003cimg src=\"https:\/\/cdn.shopifycdn.net\/s\/files\/1\/0298\/3392\/0560\/files\/TXHY_480x480.gif?v=1595315562\" alt=\"\" style=\"display: block; margin-left: auto; margin-right: auto;\"\u003e\u003cspan style=\"color: #ff2a00;\"\u003eQUACK! I'M HUEY\u003c\/span\u003e 🦆\u003cimg class=\"emoji emoji1f4a5\" data-c=\"💥\"\u003e\u003cimg class=\"emoji emoji1f4a2\" data-c=\"💢\"\u003e\u003cimg class=\"emoji emoji1f4a5\" data-c=\"💥\"\u003e\n\u003c\/h3\u003e\n\u003cp\u003e✅✅Press me and I will illuminate, squeeze me and I will make a noise! Pedal faster and see my propeller whizz in the wind!💨\u003c\/p\u003e\n\u003cp\u003e\u003cimg src=\"https:\/\/cdn.shopifycdn.net\/s\/files\/1\/0298\/3392\/0560\/files\/TXHY_2_480x480.gif?v=1595480157\" alt=\"\" style=\"display: block; margin-left: auto; margin-right: auto;\"\u003e✅✅I come in 8 different styles to suit your mood or preference, and to keep your bike looking fresh for when you're cruising down the street.😎\u003c\/p\u003e\n\u003cp\u003e\u003cimg src=\"https:\/\/cdn.shopify.com\/s\/files\/1\/0328\/5339\/3467\/files\/pic1_1024x_2403fb68-8722-4c39-8e7a-931711493031_480x480.png?v=1590997881\" style=\"display: block; margin-left: auto; margin-right: auto;\"\u003e\u003c\/p\u003e\n\u003ch3\u003e\u003cspan style=\"color: #ff2a00;\"\u003eDOWN TO DUCK? 🦆\u003c\/span\u003e\u003c\/h3\u003e\n\u003cp\u003e✅✅What's my job? Well, not only will I keep your style fresh, I will keep you safe on those darker rides around your area!\u003c\/p\u003e\n\u003cp\u003e\u003cspan style=\"color: #00aaff;\"\u003e\u003cstrong\u003e- Need a pedestrian to move?\u003c\/strong\u003e\u003c\/span\u003e\u003c\/p\u003e\n\u003cp\u003e\u003cem\u003eSqueeze me!\u003c\/em\u003e\u003c\/p\u003e\n\u003cp\u003e\u003cspan style=\"color: #00aaff;\"\u003e\u003cstrong\u003e- Hard to see in the dark?\u003c\/strong\u003e\u003c\/span\u003e\u003c\/p\u003e\n\u003cp\u003e\u003cem\u003ePress me!\u003c\/em\u003e\u003c\/p\u003e\n\u003cp\u003e\u003cstrong\u003e-\u003cspan style=\"color: #00aaff;\"\u003e Want to impress everyone you pass?\u003c\/span\u003e\u003c\/strong\u003e\u003c\/p\u003e\n\u003cp\u003e\u003cem\u003eOwn a Huey!\u003c\/em\u003e\u003c\/p\u003e\n\u003cp\u003e👉👉What the duck are you waiting for? Make cycling fun again whilst staying safe at the same time! \u003cstrong\u003eHow could you resist not getting your very own Huey?!\u003c\/strong\u003e\u003c\/p\u003e\n\u003cp\u003e\u003cstrong\u003e\u003cimg src=\"https:\/\/cdn.shopify.com\/s\/files\/1\/0328\/5339\/3467\/files\/img1_760x_4a4dcd10-e3cb-43df-9e8e-d1b329ce39ef_480x480.png?v=1590997961\" style=\"display: block; margin-left: auto; margin-right: auto;\"\u003e\u003c\/strong\u003e\u003c\/p\u003e\n\u003cp\u003e\u003cstrong\u003e\u003cimg src=\"https:\/\/cdn.shopify.com\/s\/files\/1\/0328\/5339\/3467\/files\/img2_760x_1c26d3ca-7120-46d6-9e38-f0a7a32e507b_480x480.png?v=1590997974\" style=\"display: block; margin-left: auto; margin-right: auto;\"\u003e\u003cimg src=\"https:\/\/cdn.shopify.com\/s\/files\/1\/0328\/5339\/3467\/files\/img3_760x_c82eadda-40a2-46fe-a0d4-21f3c28994f3_480x480.png?v=1590997987\" style=\"display: block; margin-left: auto; margin-right: auto;\"\u003e\u003c\/strong\u003e\u003c\/p\u003e\n\u003ch3\u003e\u003cspan style=\"color: #ff8000;\"\u003e\u003cstrong\u003eFeatures:\u003c\/strong\u003e\u003c\/span\u003e\u003c\/h3\u003e\n\u003cul\u003e\n\u003cli\u003e\u003cspan style=\"color: #000000;\"\u003e\u003cstrong\u003eStretchable Silicone Strap -\u003c\/strong\u003e It is installed with a pipe diameter of 7-13 cm in circumference.\u003c\/span\u003e\u003c\/li\u003e\n\u003c\/ul\u003e\n\u003cp\u003e\u003cspan style=\"color: #000000;\"\u003e\u003cimg src=\"https:\/\/cdn.shopifycdn.net\/s\/files\/1\/0040\/2728\/5539\/files\/1_ebf4b88a-534a-471d-a3f7-0053a5bb2d41.png?v=1596094395\" alt=\"\" style=\"display: block; margin-left: auto; margin-right: auto;\" width=\"446\" height=\"322\"\u003e\u003c\/span\u003e\u003c\/p\u003e\n\u003cul\u003e\n\u003cli\u003e\n\u003cstrong\u003e\u003cspan style=\"color: #000000;\"\u003eRemovable + Replaceable Battery - \u003c\/span\u003e\u003c\/strong\u003e\u003cspan style=\"color: #000000;\"\u003eBuilt-in two 2032 batteries, which can be removed and replaced when used up.\u003cspan style=\"color: #ff2a00;\"\u003e(Tip:The battery should be positive, with the plus sign facing up.)\u003c\/span\u003e\u003c\/span\u003e\n\u003c\/li\u003e\n\u003c\/ul\u003e\n\u003cp\u003e\u003cspan style=\"color: #000000;\"\u003e\u003cspan style=\"color: #ff2a00;\"\u003e\u003cimg src=\"https:\/\/cdn.shopifycdn.net\/s\/files\/1\/0040\/2728\/5539\/files\/2_991701fb-5f27-4886-a687-ee2073fdaa89.png?v=1596094565\" alt=\"\" style=\"display: block; margin-left: auto; margin-right: auto;\" width=\"495\" height=\"161\"\u003e\u003c\/span\u003e\u003c\/span\u003e\u003c\/p\u003e\n\u003cul\u003e\n\u003cli\u003e\u003cspan style=\"color: #000000;\"\u003e\u003cstrong\u003e Lights up -\u003c\/strong\u003e It will light up and make a sound when pinched. Both children and adults will love it.\u003c\/span\u003e\u003c\/li\u003e\n\u003c\/ul\u003e\n\u003cp\u003e\u003cspan style=\"color: #000000;\"\u003e\u003cimg src=\"https:\/\/cdn.shopifycdn.net\/s\/files\/1\/0040\/2728\/5539\/files\/17.jpg?v=1596097488\" alt=\"\" style=\"display: block; margin-left: auto; margin-right: auto;\" width=\"455\" height=\"318\"\u003e\u003c\/span\u003e\u003c\/p\u003e\n\u003ch3\u003e\u003cspan style=\"color: #ff8000;\"\u003e\u003cstrong\u003eSpecifications:\u003c\/strong\u003e\u003c\/span\u003e\u003c\/h3\u003e\n\u003cul\u003e\n\u003cli\u003e\u003cspan style=\"color: #000000;\"\u003eLight:Yellow\u003c\/span\u003e\u003c\/li\u003e\n\u003cli\u003e\u003cspan color=\"#000000\" style=\"color: #000000;\"\u003eWeight: 100g\u003c\/span\u003e\u003c\/li\u003e\n\u003cli\u003e\u003cspan color=\"#000000\" style=\"color: #000000;\"\u003eBattery: CR2032*2\u003c\/span\u003e\u003c\/li\u003e\n\u003cli\u003e\u003cspan color=\"#000000\" style=\"color: #000000;\"\u003eMode: Always On\/Flashing\/Strobe\u003c\/span\u003e\u003c\/li\u003e\n\u003cli\u003e\u003cspan color=\"#000000\" style=\"color: #ff2a00;\"\u003eInstallation: Handlebar circumference 7-13cm\u003c\/span\u003e\u003c\/li\u003e\n\u003cli\u003e\u003cspan color=\"#000000\" style=\"color: #000000;\"\u003eStyle: Little Yellow Chicken\/Black Helmet With White Star\/Blue Helmet With White Star\/Watermelon\/Black Eight\/Little Bee\/Pink Helmet With White Star\/Shark\u003c\/span\u003e\u003c\/li\u003e\n\u003c\/ul\u003e\n\u003ch3\u003e\u003cspan color=\"#000000\" style=\"color: #ff8000;\"\u003ePackage includes:\u003c\/span\u003e\u003c\/h3\u003e\n\u003cul\u003e\n\u003cli\u003e\u003cspan color=\"#000000\" style=\"color: #ff2a00;\"\u003e1* Bicycle Duck Bell(Little Duck + Lamp + Bamboo Dragonfly)\u003c\/span\u003e\u003c\/li\u003e\n\u003c\/ul\u003e\n\u003cp\u003e\u003cbr\u003e\u003c\/p\u003e\n\u003c\/div\u003e\n\u003c\/div\u003e","published_at":"2020-07-31T01:24:29-05:00","created_at":"2020-07-31T01:24:42-05:00","vendor":"Magoloft","type":"","tags":[],"price":1499,"price_min":1499,"price_max":1499,"available":true,"price_varies":false,"compare_at_price":0,"compare_at_price_min":0,"compare_at_price_max":0,"compare_at_price_varies":false,"variants":[{"id":32207026192439,"title":"Little Yellow Chicken","option1":"Little Yellow Chicken","option2":null,"option3":null,"sku":"CP13217-X5463","requires_shipping":true,"taxable":false,"featured_image":{"id":14965083373623,"product_id":4592474882103,"position":9,"created_at":"2020-07-31T01:24:42-05:00","updated_at":"2020-07-31T01:24:42-05:00","alt":null,"width":800,"height":800,"src":"https:\/\/cdn.shopify.com\/s\/files\/1\/0251\/5163\/5511\/products\/9_b509fac5-9179-4221-9a3d-f339f0e42761.jpg?v=1596176682","variant_ids":[32207026192439]},"available":true,"name":"Bicycle Duck Bell - Little Yellow Chicken","public_title":"Little Yellow Chicken","options":["Little Yellow Chicken"],"price":1499,"weight":0,"compare_at_price":0,"inventory_management":null,"barcode":null,"featured_media":{"alt":null,"id":7132782592055,"position":9,"preview_image":{"aspect_ratio":1.0,"height":800,"width":800,"src":"https:\/\/cdn.shopify.com\/s\/files\/1\/0251\/5163\/5511\/products\/9_b509fac5-9179-4221-9a3d-f339f0e42761.jpg?v=1596176682"}}},{"id":32207026225207,"title":"Black Helmet With White Star","option1":"Black Helmet With White Star","option2":null,"option3":null,"sku":"CP13217-X5464","requires_shipping":true,"taxable":false,"featured_image":{"id":14965083602999,"product_id":4592474882103,"position":16,"created_at":"2020-07-31T01:24:42-05:00","updated_at":"2020-07-31T01:24:42-05:00","alt":null,"width":800,"height":800,"src":"https:\/\/cdn.shopify.com\/s\/files\/1\/0251\/5163\/5511\/products\/16_512d8bbc-f3c7-4b2d-909f-4e5a95c662a7.jpg?v=1596176682","variant_ids":[32207026225207]},"available":true,"name":"Bicycle Duck Bell - Black Helmet With White Star","public_title":"Black Helmet With White Star","options":["Black Helmet With White Star"],"price":1499,"weight":0,"compare_at_price":0,"inventory_management":null,"barcode":null,"featured_media":{"alt":null,"id":7132782821431,"position":16,"preview_image":{"aspect_ratio":1.0,"height":800,"width":800,"src":"https:\/\/cdn.shopify.com\/s\/files\/1\/0251\/5163\/5511\/products\/16_512d8bbc-f3c7-4b2d-909f-4e5a95c662a7.jpg?v=1596176682"}}},{"id":32207026257975,"title":"Blue Helmet With White Star","option1":"Blue Helmet With White Star","option2":null,"option3":null,"sku":"CP13217-X5465","requires_shipping":true,"taxable":false,"featured_image":{"id":14965083504695,"product_id":4592474882103,"position":13,"created_at":"2020-07-31T01:24:42-05:00","updated_at":"2020-07-31T01:24:42-05:00","alt":null,"width":800,"height":800,"src":"https:\/\/cdn.shopify.com\/s\/files\/1\/0251\/5163\/5511\/products\/13_a230f678-fa35-4e1e-ae5b-07a9c402cc60.jpg?v=1596176682","variant_ids":[32207026257975]},"available":true,"name":"Bicycle Duck Bell - Blue Helmet With White Star","public_title":"Blue Helmet With White Star","options":["Blue Helmet With White Star"],"price":1499,"weight":0,"compare_at_price":0,"inventory_management":null,"barcode":null,"featured_media":{"alt":null,"id":7132782723127,"position":13,"preview_image":{"aspect_ratio":1.0,"height":800,"width":800,"src":"https:\/\/cdn.shopify.com\/s\/files\/1\/0251\/5163\/5511\/products\/13_a230f678-fa35-4e1e-ae5b-07a9c402cc60.jpg?v=1596176682"}}},{"id":32207026290743,"title":"Watermelon","option1":"Watermelon","option2":null,"option3":null,"sku":"CP13217-X0769","requires_shipping":true,"taxable":false,"featured_image":{"id":14965083439159,"product_id":4592474882103,"position":11,"created_at":"2020-07-31T01:24:42-05:00","updated_at":"2020-07-31T01:24:42-05:00","alt":null,"width":800,"height":800,"src":"https:\/\/cdn.shopify.com\/s\/files\/1\/0251\/5163\/5511\/products\/11_8da994fe-f642-4681-adbb-d15fd276bcd6.jpg?v=1596176682","variant_ids":[32207026290743]},"available":true,"name":"Bicycle Duck Bell - Watermelon","public_title":"Watermelon","options":["Watermelon"],"price":1499,"weight":0,"compare_at_price":0,"inventory_management":null,"barcode":null,"featured_media":{"alt":null,"id":7132782657591,"position":11,"preview_image":{"aspect_ratio":1.0,"height":800,"width":800,"src":"https:\/\/cdn.shopify.com\/s\/files\/1\/0251\/5163\/5511\/products\/11_8da994fe-f642-4681-adbb-d15fd276bcd6.jpg?v=1596176682"}}},{"id":32207026323511,"title":"Black Eight","option1":"Black Eight","option2":null,"option3":null,"sku":"CP13217-X5466","requires_shipping":true,"taxable":false,"featured_image":{"id":14965083406391,"product_id":4592474882103,"position":10,"created_at":"2020-07-31T01:24:42-05:00","updated_at":"2020-07-31T01:24:42-05:00","alt":null,"width":800,"height":800,"src":"https:\/\/cdn.shopify.com\/s\/files\/1\/0251\/5163\/5511\/products\/10_ccf18bf1-2aec-489b-bd5a-05213a718e5d.jpg?v=1596176682","variant_ids":[32207026323511]},"available":true,"name":"Bicycle Duck Bell - Black Eight","public_title":"Black Eight","options":["Black Eight"],"price":1499,"weight":0,"compare_at_price":0,"inventory_management":null,"barcode":null,"featured_media":{"alt":null,"id":7132782624823,"position":10,"preview_image":{"aspect_ratio":1.0,"height":800,"width":800,"src":"https:\/\/cdn.shopify.com\/s\/files\/1\/0251\/5163\/5511\/products\/10_ccf18bf1-2aec-489b-bd5a-05213a718e5d.jpg?v=1596176682"}}},{"id":32207026356279,"title":"Little Bee","option1":"Little Bee","option2":null,"option3":null,"sku":"CP13217-X1386","requires_shipping":true,"taxable":false,"featured_image":{"id":14965083537463,"product_id":4592474882103,"position":14,"created_at":"2020-07-31T01:24:42-05:00","updated_at":"2020-07-31T01:24:42-05:00","alt":null,"width":800,"height":800,"src":"https:\/\/cdn.shopify.com\/s\/files\/1\/0251\/5163\/5511\/products\/14_bc288745-8882-4649-9240-1db39f73728e.jpg?v=1596176682","variant_ids":[32207026356279]},"available":true,"name":"Bicycle Duck Bell - Little Bee","public_title":"Little Bee","options":["Little Bee"],"price":1499,"weight":0,"compare_at_price":0,"inventory_management":null,"barcode":null,"featured_media":{"alt":null,"id":7132782755895,"position":14,"preview_image":{"aspect_ratio":1.0,"height":800,"width":800,"src":"https:\/\/cdn.shopify.com\/s\/files\/1\/0251\/5163\/5511\/products\/14_bc288745-8882-4649-9240-1db39f73728e.jpg?v=1596176682"}}},{"id":32207026389047,"title":"Pink Helmet With White Star","option1":"Pink Helmet With White Star","option2":null,"option3":null,"sku":"CP13217-X5467","requires_shipping":true,"taxable":false,"featured_image":{"id":14965083471927,"product_id":4592474882103,"position":12,"created_at":"2020-07-31T01:24:42-05:00","updated_at":"2020-07-31T01:24:42-05:00","alt":null,"width":800,"height":800,"src":"https:\/\/cdn.shopify.com\/s\/files\/1\/0251\/5163\/5511\/products\/12_5e27bb75-82fd-4474-8f7e-235cae2a7ad1.jpg?v=1596176682","variant_ids":[32207026389047]},"available":true,"name":"Bicycle Duck Bell - Pink Helmet With White Star","public_title":"Pink Helmet With White Star","options":["Pink Helmet With White Star"],"price":1499,"weight":0,"compare_at_price":0,"inventory_management":null,"barcode":null,"featured_media":{"alt":null,"id":7132782690359,"position":12,"preview_image":{"aspect_ratio":1.0,"height":800,"width":800,"src":"https:\/\/cdn.shopify.com\/s\/files\/1\/0251\/5163\/5511\/products\/12_5e27bb75-82fd-4474-8f7e-235cae2a7ad1.jpg?v=1596176682"}}},{"id":32207026421815,"title":"Shark","option1":"Shark","option2":null,"option3":null,"sku":"CP13217-X1753","requires_shipping":true,"taxable":false,"featured_image":{"id":14965083570231,"product_id":4592474882103,"position":15,"created_at":"2020-07-31T01:24:42-05:00","updated_at":"2020-07-31T01:24:42-05:00","alt":null,"width":800,"height":800,"src":"https:\/\/cdn.shopify.com\/s\/files\/1\/0251\/5163\/5511\/products\/15_68025c72-b141-4168-893c-592dd665ef31.jpg?v=1596176682","variant_ids":[32207026421815]},"available":true,"name":"Bicycle Duck Bell - Shark","public_title":"Shark","options":["Shark"],"price":1499,"weight":0,"compare_at_price":0,"inventory_management":null,"barcode":null,"featured_media":{"alt":null,"id":7132782788663,"position":15,"preview_image":{"aspect_ratio":1.0,"height":800,"width":800,"src":"https:\/\/cdn.shopify.com\/s\/files\/1\/0251\/5163\/5511\/products\/15_68025c72-b141-4168-893c-592dd665ef31.jpg?v=1596176682"}}}],"images":["\/\/cdn.shopify.com\/s\/files\/1\/0251\/5163\/5511\/products\/1_d22871b4-2c56-4df3-a226-dcbabf0400f5.jpg?v=1596176682","\/\/cdn.shopify.com\/s\/files\/1\/0251\/5163\/5511\/products\/2_5eaba020-76da-42b7-8178-298f81e7acfc.jpg?v=1596176682","\/\/cdn.shopify.com\/s\/files\/1\/0251\/5163\/5511\/products\/3_aca3fff3-80d7-4db7-b7c0-774cb18a0ad7.jpg?v=1596176682","\/\/cdn.shopify.com\/s\/files\/1\/0251\/5163\/5511\/products\/4_667604c7-f266-46a2-ad8d-52bb68d3edde.jpg?v=1596176682","\/\/cdn.shopify.com\/s\/files\/1\/0251\/5163\/5511\/products\/5_d6f08679-f150-4e78-a06b-c54dc0eee7fc.jpg?v=1596176682","\/\/cdn.shopify.com\/s\/files\/1\/0251\/5163\/5511\/products\/6_8a67b035-c138-4267-9258-f3fac51a2004.jpg?v=1596176682","\/\/cdn.shopify.com\/s\/files\/1\/0251\/5163\/5511\/products\/7_d44bc8c0-6276-4d09-b684-b9cd0f53a619.jpg?v=1596176682","\/\/cdn.shopify.com\/s\/files\/1\/0251\/5163\/5511\/products\/8_25f60e87-f93c-4ad7-b782-389712aa4816.jpg?v=1596176682","\/\/cdn.shopify.com\/s\/files\/1\/0251\/5163\/5511\/products\/9_b509fac5-9179-4221-9a3d-f339f0e42761.jpg?v=1596176682","\/\/cdn.shopify.com\/s\/files\/1\/0251\/5163\/5511\/products\/10_ccf18bf1-2aec-489b-bd5a-05213a718e5d.jpg?v=1596176682","\/\/cdn.shopify.com\/s\/files\/1\/0251\/5163\/5511\/products\/11_8da994fe-f642-4681-adbb-d15fd276bcd6.jpg?v=1596176682","\/\/cdn.shopify.com\/s\/files\/1\/0251\/5163\/5511\/products\/12_5e27bb75-82fd-4474-8f7e-235cae2a7ad1.jpg?v=1596176682","\/\/cdn.shopify.com\/s\/files\/1\/0251\/5163\/5511\/products\/13_a230f678-fa35-4e1e-ae5b-07a9c402cc60.jpg?v=1596176682","\/\/cdn.shopify.com\/s\/files\/1\/0251\/5163\/5511\/products\/14_bc288745-8882-4649-9240-1db39f73728e.jpg?v=1596176682","\/\/cdn.shopify.com\/s\/files\/1\/0251\/5163\/5511\/products\/15_68025c72-b141-4168-893c-592dd665ef31.jpg?v=1596176682","\/\/cdn.shopify.com\/s\/files\/1\/0251\/5163\/5511\/products\/16_512d8bbc-f3c7-4b2d-909f-4e5a95c662a7.jpg?v=1596176682"],"featured_image":"\/\/cdn.shopify.com\/s\/files\/1\/0251\/5163\/5511\/products\/1_d22871b4-2c56-4df3-a226-dcbabf0400f5.jpg?v=1596176682","options":["Style"],"media":[{"alt":null,"id":7132782329911,"position":1,"preview_image":{"aspect_ratio":1.0,"height":800,"width":800,"src":"https:\/\/cdn.shopify.com\/s\/files\/1\/0251\/5163\/5511\/products\/1_d22871b4-2c56-4df3-a226-dcbabf0400f5.jpg?v=1596176682"},"aspect_ratio":1.0,"height":800,"media_type":"image","src":"https:\/\/cdn.shopify.com\/s\/files\/1\/0251\/5163\/5511\/products\/1_d22871b4-2c56-4df3-a226-dcbabf0400f5.jpg?v=1596176682","width":800},{"alt":null,"id":7132782362679,"position":2,"preview_image":{"aspect_ratio":1.0,"height":800,"width":800,"src":"https:\/\/cdn.shopify.com\/s\/files\/1\/0251\/5163\/5511\/products\/2_5eaba020-76da-42b7-8178-298f81e7acfc.jpg?v=1596176682"},"aspect_ratio":1.0,"height":800,"media_type":"image","src":"https:\/\/cdn.shopify.com\/s\/files\/1\/0251\/5163\/5511\/products\/2_5eaba020-76da-42b7-8178-298f81e7acfc.jpg?v=1596176682","width":800},{"alt":null,"id":7132782395447,"position":3,"preview_image":{"aspect_ratio":1.0,"height":800,"width":800,"src":"https:\/\/cdn.shopify.com\/s\/files\/1\/0251\/5163\/5511\/products\/3_aca3fff3-80d7-4db7-b7c0-774cb18a0ad7.jpg?v=1596176682"},"aspect_ratio":1.0,"height":800,"media_type":"image","src":"https:\/\/cdn.shopify.com\/s\/files\/1\/0251\/5163\/5511\/products\/3_aca3fff3-80d7-4db7-b7c0-774cb18a0ad7.jpg?v=1596176682","width":800},{"alt":null,"id":7132782428215,"position":4,"preview_image":{"aspect_ratio":1.0,"height":800,"width":800,"src":"https:\/\/cdn.shopify.com\/s\/files\/1\/0251\/5163\/5511\/products\/4_667604c7-f266-46a2-ad8d-52bb68d3edde.jpg?v=1596176682"},"aspect_ratio":1.0,"height":800,"media_type":"image","src":"https:\/\/cdn.shopify.com\/s\/files\/1\/0251\/5163\/5511\/products\/4_667604c7-f266-46a2-ad8d-52bb68d3edde.jpg?v=1596176682","width":800},{"alt":null,"id":7132782460983,"position":5,"preview_image":{"aspect_ratio":1.0,"height":800,"width":800,"src":"https:\/\/cdn.shopify.com\/s\/files\/1\/0251\/5163\/5511\/products\/5_d6f08679-f150-4e78-a06b-c54dc0eee7fc.jpg?v=1596176682"},"aspect_ratio":1.0,"height":800,"media_type":"image","src":"https:\/\/cdn.shopify.com\/s\/files\/1\/0251\/5163\/5511\/products\/5_d6f08679-f150-4e78-a06b-c54dc0eee7fc.jpg?v=1596176682","width":800},{"alt":null,"id":7132782493751,"position":6,"preview_image":{"aspect_ratio":1.0,"height":800,"width":800,"src":"https:\/\/cdn.shopify.com\/s\/files\/1\/0251\/5163\/5511\/products\/6_8a67b035-c138-4267-9258-f3fac51a2004.jpg?v=1596176682"},"aspect_ratio":1.0,"height":800,"media_type":"image","src":"https:\/\/cdn.shopify.com\/s\/files\/1\/0251\/5163\/5511\/products\/6_8a67b035-c138-4267-9258-f3fac51a2004.jpg?v=1596176682","width":800},{"alt":null,"id":7132782526519,"position":7,"preview_image":{"aspect_ratio":1.0,"height":800,"width":800,"src":"https:\/\/cdn.shopify.com\/s\/files\/1\/0251\/5163\/5511\/products\/7_d44bc8c0-6276-4d09-b684-b9cd0f53a619.jpg?v=1596176682"},"aspect_ratio":1.0,"height":800,"media_type":"image","src":"https:\/\/cdn.shopify.com\/s\/files\/1\/0251\/5163\/5511\/products\/7_d44bc8c0-6276-4d09-b684-b9cd0f53a619.jpg?v=1596176682","width":800},{"alt":null,"id":7132782559287,"position":8,"preview_image":{"aspect_ratio":1.0,"height":800,"width":800,"src":"https:\/\/cdn.shopify.com\/s\/files\/1\/0251\/5163\/5511\/products\/8_25f60e87-f93c-4ad7-b782-389712aa4816.jpg?v=1596176682"},"aspect_ratio":1.0,"height":800,"media_type":"image","src":"https:\/\/cdn.shopify.com\/s\/files\/1\/0251\/5163\/5511\/products\/8_25f60e87-f93c-4ad7-b782-389712aa4816.jpg?v=1596176682","width":800},{"alt":null,"id":7132782592055,"position":9,"preview_image":{"aspect_ratio":1.0,"height":800,"width":800,"src":"https:\/\/cdn.shopify.com\/s\/files\/1\/0251\/5163\/5511\/products\/9_b509fac5-9179-4221-9a3d-f339f0e42761.jpg?v=1596176682"},"aspect_ratio":1.0,"height":800,"media_type":"image","src":"https:\/\/cdn.shopify.com\/s\/files\/1\/0251\/5163\/5511\/products\/9_b509fac5-9179-4221-9a3d-f339f0e42761.jpg?v=1596176682","width":800},{"alt":null,"id":7132782624823,"position":10,"preview_image":{"aspect_ratio":1.0,"height":800,"width":800,"src":"https:\/\/cdn.shopify.com\/s\/files\/1\/0251\/5163\/5511\/products\/10_ccf18bf1-2aec-489b-bd5a-05213a718e5d.jpg?v=1596176682"},"aspect_ratio":1.0,"height":800,"media_type":"image","src":"https:\/\/cdn.shopify.com\/s\/files\/1\/0251\/5163\/5511\/products\/10_ccf18bf1-2aec-489b-bd5a-05213a718e5d.jpg?v=1596176682","width":800},{"alt":null,"id":7132782657591,"position":11,"preview_image":{"aspect_ratio":1.0,"height":800,"width":800,"src":"https:\/\/cdn.shopify.com\/s\/files\/1\/0251\/5163\/5511\/products\/11_8da994fe-f642-4681-adbb-d15fd276bcd6.jpg?v=1596176682"},"aspect_ratio":1.0,"height":800,"media_type":"image","src":"https:\/\/cdn.shopify.com\/s\/files\/1\/0251\/5163\/5511\/products\/11_8da994fe-f642-4681-adbb-d15fd276bcd6.jpg?v=1596176682","width":800},{"alt":null,"id":7132782690359,"position":12,"preview_image":{"aspect_ratio":1.0,"height":800,"width":800,"src":"https:\/\/cdn.shopify.com\/s\/files\/1\/0251\/5163\/5511\/products\/12_5e27bb75-82fd-4474-8f7e-235cae2a7ad1.jpg?v=1596176682"},"aspect_ratio":1.0,"height":800,"media_type":"image","src":"https:\/\/cdn.shopify.com\/s\/files\/1\/0251\/5163\/5511\/products\/12_5e27bb75-82fd-4474-8f7e-235cae2a7ad1.jpg?v=1596176682","width":800},{"alt":null,"id":7132782723127,"position":13,"preview_image":{"aspect_ratio":1.0,"height":800,"width":800,"src":"https:\/\/cdn.shopify.com\/s\/files\/1\/0251\/5163\/5511\/products\/13_a230f678-fa35-4e1e-ae5b-07a9c402cc60.jpg?v=1596176682"},"aspect_ratio":1.0,"height":800,"media_type":"image","src":"https:\/\/cdn.shopify.com\/s\/files\/1\/0251\/5163\/5511\/products\/13_a230f678-fa35-4e1e-ae5b-07a9c402cc60.jpg?v=1596176682","width":800},{"alt":null,"id":7132782755895,"position":14,"preview_image":{"aspect_ratio":1.0,"height":800,"width":800,"src":"https:\/\/cdn.shopify.com\/s\/files\/1\/0251\/5163\/5511\/products\/14_bc288745-8882-4649-9240-1db39f73728e.jpg?v=1596176682"},"aspect_ratio":1.0,"height":800,"media_type":"image","src":"https:\/\/cdn.shopify.com\/s\/files\/1\/0251\/5163\/5511\/products\/14_bc288745-8882-4649-9240-1db39f73728e.jpg?v=1596176682","width":800},{"alt":null,"id":7132782788663,"position":15,"preview_image":{"aspect_ratio":1.0,"height":800,"width":800,"src":"https:\/\/cdn.shopify.com\/s\/files\/1\/0251\/5163\/5511\/products\/15_68025c72-b141-4168-893c-592dd665ef31.jpg?v=1596176682"},"aspect_ratio":1.0,"height":800,"media_type":"image","src":"https:\/\/cdn.shopify.com\/s\/files\/1\/0251\/5163\/5511\/products\/15_68025c72-b141-4168-893c-592dd665ef31.jpg?v=1596176682","width":800},{"alt":null,"id":7132782821431,"position":16,"preview_image":{"aspect_ratio":1.0,"height":800,"width":800,"src":"https:\/\/cdn.shopify.com\/s\/files\/1\/0251\/5163\/5511\/products\/16_512d8bbc-f3c7-4b2d-909f-4e5a95c662a7.jpg?v=1596176682"},"aspect_ratio":1.0,"height":800,"media_type":"image","src":"https:\/\/cdn.shopify.com\/s\/files\/1\/0251\/5163\/5511\/products\/16_512d8bbc-f3c7-4b2d-909f-4e5a95c662a7.jpg?v=1596176682","width":800}],"content":"\u003cdiv class=\"product-single__meta\"\u003e\n\u003ch1 class=\"product-single__title\" itemprop=\"name\"\u003e\u003c\/h1\u003e\n\u003cdiv class=\"product-single__description rte\" itemprop=\"description\"\u003e\n\u003ch2 style=\"text-align: center;\"\u003e🐤Bicycle Duck Bell\u003c\/h2\u003e\n\u003cp\u003e✅✅Quack quack! I'm Huey, and I'm here to keep you safe on your bike in style. Whether you commute to school, work, the gym or just like a casual ride - I'm here to be there with you, every pedal of the way.😘\u003c\/p\u003e\n\u003ch3\u003e\n\u003cimg src=\"https:\/\/cdn.shopifycdn.net\/s\/files\/1\/0298\/3392\/0560\/files\/TXHY_480x480.gif?v=1595315562\" alt=\"\" style=\"display: block; margin-left: auto; margin-right: auto;\"\u003e\u003cspan style=\"color: #ff2a00;\"\u003eQUACK! I'M HUEY\u003c\/span\u003e 🦆\u003cimg class=\"emoji emoji1f4a5\" data-c=\"💥\"\u003e\u003cimg class=\"emoji emoji1f4a2\" data-c=\"💢\"\u003e\u003cimg class=\"emoji emoji1f4a5\" data-c=\"💥\"\u003e\n\u003c\/h3\u003e\n\u003cp\u003e✅✅Press me and I will illuminate, squeeze me and I will make a noise! Pedal faster and see my propeller whizz in the wind!💨\u003c\/p\u003e\n\u003cp\u003e\u003cimg src=\"https:\/\/cdn.shopifycdn.net\/s\/files\/1\/0298\/3392\/0560\/files\/TXHY_2_480x480.gif?v=1595480157\" alt=\"\" style=\"display: block; margin-left: auto; margin-right: auto;\"\u003e✅✅I come in 8 different styles to suit your mood or preference, and to keep your bike looking fresh for when you're cruising down the street.😎\u003c\/p\u003e\n\u003cp\u003e\u003cimg src=\"https:\/\/cdn.shopify.com\/s\/files\/1\/0328\/5339\/3467\/files\/pic1_1024x_2403fb68-8722-4c39-8e7a-931711493031_480x480.png?v=1590997881\" style=\"display: block; margin-left: auto; margin-right: auto;\"\u003e\u003c\/p\u003e\n\u003ch3\u003e\u003cspan style=\"color: #ff2a00;\"\u003eDOWN TO DUCK? 🦆\u003c\/span\u003e\u003c\/h3\u003e\n\u003cp\u003e✅✅What's my job? Well, not only will I keep your style fresh, I will keep you safe on those darker rides around your area!\u003c\/p\u003e\n\u003cp\u003e\u003cspan style=\"color: #00aaff;\"\u003e\u003cstrong\u003e- Need a pedestrian to move?\u003c\/strong\u003e\u003c\/span\u003e\u003c\/p\u003e\n\u003cp\u003e\u003cem\u003eSqueeze me!\u003c\/em\u003e\u003c\/p\u003e\n\u003cp\u003e\u003cspan style=\"color: #00aaff;\"\u003e\u003cstrong\u003e- Hard to see in the dark?\u003c\/strong\u003e\u003c\/span\u003e\u003c\/p\u003e\n\u003cp\u003e\u003cem\u003ePress me!\u003c\/em\u003e\u003c\/p\u003e\n\u003cp\u003e\u003cstrong\u003e-\u003cspan style=\"color: #00aaff;\"\u003e Want to impress everyone you pass?\u003c\/span\u003e\u003c\/strong\u003e\u003c\/p\u003e\n\u003cp\u003e\u003cem\u003eOwn a Huey!\u003c\/em\u003e\u003c\/p\u003e\n\u003cp\u003e👉👉What the duck are you waiting for? Make cycling fun again whilst staying safe at the same time! \u003cstrong\u003eHow could you resist not getting your very own Huey?!\u003c\/strong\u003e\u003c\/p\u003e\n\u003cp\u003e\u003cstrong\u003e\u003cimg src=\"https:\/\/cdn.shopify.com\/s\/files\/1\/0328\/5339\/3467\/files\/img1_760x_4a4dcd10-e3cb-43df-9e8e-d1b329ce39ef_480x480.png?v=1590997961\" style=\"display: block; margin-left: auto; margin-right: auto;\"\u003e\u003c\/strong\u003e\u003c\/p\u003e\n\u003cp\u003e\u003cstrong\u003e\u003cimg src=\"https:\/\/cdn.shopify.com\/s\/files\/1\/0328\/5339\/3467\/files\/img2_760x_1c26d3ca-7120-46d6-9e38-f0a7a32e507b_480x480.png?v=1590997974\" style=\"display: block; margin-left: auto; margin-right: auto;\"\u003e\u003cimg src=\"https:\/\/cdn.shopify.com\/s\/files\/1\/0328\/5339\/3467\/files\/img3_760x_c82eadda-40a2-46fe-a0d4-21f3c28994f3_480x480.png?v=1590997987\" style=\"display: block; margin-left: auto; margin-right: auto;\"\u003e\u003c\/strong\u003e\u003c\/p\u003e\n\u003ch3\u003e\u003cspan style=\"color: #ff8000;\"\u003e\u003cstrong\u003eFeatures:\u003c\/strong\u003e\u003c\/span\u003e\u003c\/h3\u003e\n\u003cul\u003e\n\u003cli\u003e\u003cspan style=\"color: #000000;\"\u003e\u003cstrong\u003eStretchable Silicone Strap -\u003c\/strong\u003e It is installed with a pipe diameter of 7-13 cm in circumference.\u003c\/span\u003e\u003c\/li\u003e\n\u003c\/ul\u003e\n\u003cp\u003e\u003cspan style=\"color: #000000;\"\u003e\u003cimg src=\"https:\/\/cdn.shopifycdn.net\/s\/files\/1\/0040\/2728\/5539\/files\/1_ebf4b88a-534a-471d-a3f7-0053a5bb2d41.png?v=1596094395\" alt=\"\" style=\"display: block; margin-left: auto; margin-right: auto;\" width=\"446\" height=\"322\"\u003e\u003c\/span\u003e\u003c\/p\u003e\n\u003cul\u003e\n\u003cli\u003e\n\u003cstrong\u003e\u003cspan style=\"color: #000000;\"\u003eRemovable + Replaceable Battery - \u003c\/span\u003e\u003c\/strong\u003e\u003cspan style=\"color: #000000;\"\u003eBuilt-in two 2032 batteries, which can be removed and replaced when used up.\u003cspan style=\"color: #ff2a00;\"\u003e(Tip:The battery should be positive, with the plus sign facing up.)\u003c\/span\u003e\u003c\/span\u003e\n\u003c\/li\u003e\n\u003c\/ul\u003e\n\u003cp\u003e\u003cspan style=\"color: #000000;\"\u003e\u003cspan style=\"color: #ff2a00;\"\u003e\u003cimg src=\"https:\/\/cdn.shopifycdn.net\/s\/files\/1\/0040\/2728\/5539\/files\/2_991701fb-5f27-4886-a687-ee2073fdaa89.png?v=1596094565\" alt=\"\" style=\"display: block; margin-left: auto; margin-right: auto;\" width=\"495\" height=\"161\"\u003e\u003c\/span\u003e\u003c\/span\u003e\u003c\/p\u003e\n\u003cul\u003e\n\u003cli\u003e\u003cspan style=\"color: #000000;\"\u003e\u003cstrong\u003e Lights up -\u003c\/strong\u003e It will light up and make a sound when pinched. Both children and adults will love it.\u003c\/span\u003e\u003c\/li\u003e\n\u003c\/ul\u003e\n\u003cp\u003e\u003cspan style=\"color: #000000;\"\u003e\u003cimg src=\"https:\/\/cdn.shopifycdn.net\/s\/files\/1\/0040\/2728\/5539\/files\/17.jpg?v=1596097488\" alt=\"\" style=\"display: block; margin-left: auto; margin-right: auto;\" width=\"455\" height=\"318\"\u003e\u003c\/span\u003e\u003c\/p\u003e\n\u003ch3\u003e\u003cspan style=\"color: #ff8000;\"\u003e\u003cstrong\u003eSpecifications:\u003c\/strong\u003e\u003c\/span\u003e\u003c\/h3\u003e\n\u003cul\u003e\n\u003cli\u003e\u003cspan style=\"color: #000000;\"\u003eLight:Yellow\u003c\/span\u003e\u003c\/li\u003e\n\u003cli\u003e\u003cspan color=\"#000000\" style=\"color: #000000;\"\u003eWeight: 100g\u003c\/span\u003e\u003c\/li\u003e\n\u003cli\u003e\u003cspan color=\"#000000\" style=\"color: #000000;\"\u003eBattery: CR2032*2\u003c\/span\u003e\u003c\/li\u003e\n\u003cli\u003e\u003cspan color=\"#000000\" style=\"color: #000000;\"\u003eMode: Always On\/Flashing\/Strobe\u003c\/span\u003e\u003c\/li\u003e\n\u003cli\u003e\u003cspan color=\"#000000\" style=\"color: #ff2a00;\"\u003eInstallation: Handlebar circumference 7-13cm\u003c\/span\u003e\u003c\/li\u003e\n\u003cli\u003e\u003cspan color=\"#000000\" style=\"color: #000000;\"\u003eStyle: Little Yellow Chicken\/Black Helmet With White Star\/Blue Helmet With White Star\/Watermelon\/Black Eight\/Little Bee\/Pink Helmet With White Star\/Shark\u003c\/span\u003e\u003c\/li\u003e\n\u003c\/ul\u003e\n\u003ch3\u003e\u003cspan color=\"#000000\" style=\"color: #ff8000;\"\u003ePackage includes:\u003c\/span\u003e\u003c\/h3\u003e\n\u003cul\u003e\n\u003cli\u003e\u003cspan color=\"#000000\" style=\"color: #ff2a00;\"\u003e1* Bicycle Duck Bell(Little Duck + Lamp + Bamboo Dragonfly)\u003c\/span\u003e\u003c\/li\u003e\n\u003c\/ul\u003e\n\u003cp\u003e\u003cbr\u003e\u003c\/p\u003e\n\u003c\/div\u003e\n\u003c\/div\u003e"}
Bicycle Duck Bell
Tax included.
Shipping
calculated at checkout.
Adding product to your cart
🐤Bicycle Duck Bell
✅✅Quack quack! I'm Huey, and I'm here to keep you safe on your bike in style. Whether you commute to school, work, the gym or just like a casual ride - I'm here to be there with you, every pedal of the way.😘

QUACK! I'M HUEY

🦆
✅✅Press me and I will illuminate, squeeze me and I will make a noise! Pedal faster and see my propeller whizz in the wind!💨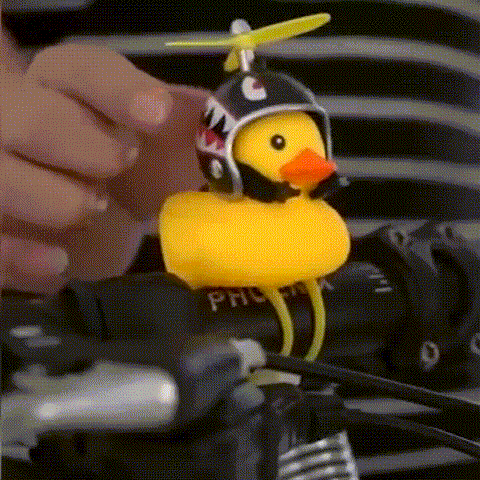 ✅✅I come in 8 different styles to suit your mood or preference, and to keep your bike looking fresh for when you're cruising down the street.😎
DOWN TO DUCK? 🦆
✅✅What's my job? Well, not only will I keep your style fresh, I will keep you safe on those darker rides around your area!
- Need a pedestrian to move?
Squeeze me!
- Hard to see in the dark?
Press me!
- Want to impress everyone you pass?
Own a Huey!
👉👉What the duck are you waiting for? Make cycling fun again whilst staying safe at the same time! How could you resist not getting your very own Huey?!
Features:
Stretchable Silicone Strap - It is installed with a pipe diameter of 7-13 cm in circumference.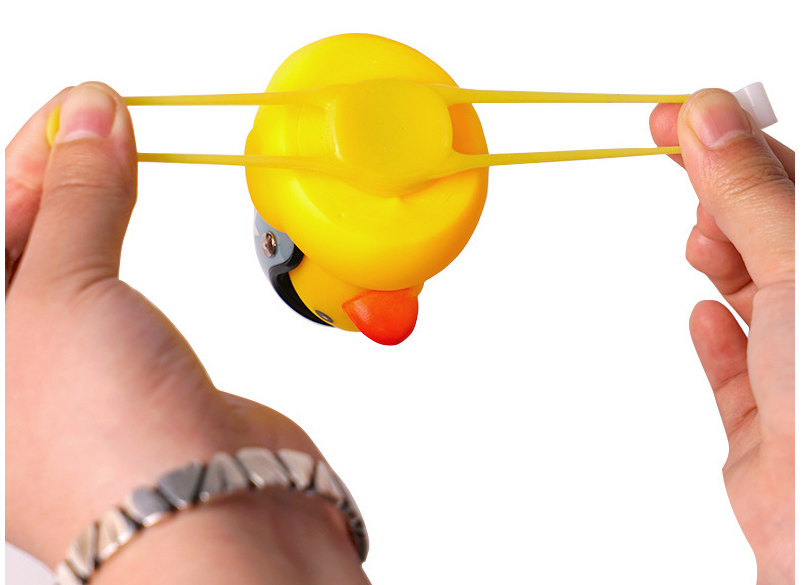 Removable + Replaceable Battery - 

Built-in two 2032 batteries, which can be removed and replaced when used up.

(Tip:The battery should be positive, with the plus sign facing up.)

 Lights up - It will light up and make a sound when pinched. Both children and adults will love it.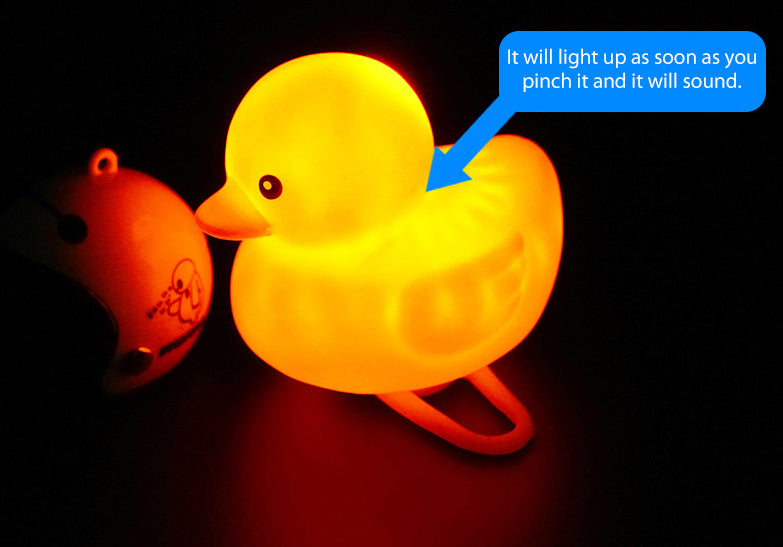 Specifications:
Light:Yellow

Weight: 100g

Battery: CR2032*2

Mode: Always On/Flashing/Strobe

Installation: Handlebar circumference 7-13cm

Style: Little Yellow Chicken/Black Helmet With White Star/Blue Helmet With White Star/Watermelon/Black Eight/Little Bee/Pink Helmet With White Star/Shark
Package includes:
1* Bicycle Duck Bell(Little Duck + Lamp + Bamboo Dragonfly)